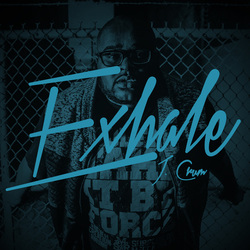 J. Crum's "Exhale" was largely a joint venture between the Nebraska based hip-hopper and myself, with notable contributions from other great producers and artists. It was a long, challenging process, but what came out was excellent. If you haven't done so already, go pick it up on ITunes or in physical form, or at least listen to it all with some good headphones on Spotify first before reading this. You'll thank me later.
Check out J. Crum at
www.OfficialJCrum.com
Get "Exhale" on ITunes
https://itunes.apple.com/us/album/exhale/id634929070
Listen on Spotify
J. Crum – Exhale
Josh is a personal friend of mine. In some ways, that made the process easier, and some ways, harder.
We each knew that we wanted something great if we were going to work together, but we each had things to learn. As a producer who has worked largely on rock projects, I knew a good deal about my process and took what you might call professional pride in it, but I hadn't spent a ton of time listening to traditional hip hop mixes. Josh had of course, but our different approaches and positions sometimes made it tough for us to articulate our thoughts and opinions to each other.
Still, one thing was clear. Josh approached me because he knew I strive for excellence
, as evidenced by my long-distance work with WatersEdge. And we knew the general direction of the album could be summed up by a couple of words: diversity and innovation. And that's what we got. And believe me, this album deserves it's due.
I found myself constantly doing things I'd have never done when approaching a rock album, and sometimes that sort of made me mad, but not in the way you'd think. I was experimenting with sounds and tones that I may not have even messed with otherwise, and often I'd come up with something and think, "Man. I almost wish I wasn't making this for Josh's album, because it's so good that I want to keep it for myself". I don't like how big-headed that sounds, I just mean that what came out of those sessions of experimentation and composition often had me flirting with the temptation of keeping certain things for my own material, because it was so different, but it worked.
Perhaps, it has helped me tap into some pop roots as well.
What follows is a breakdown of each track and its creation process. I credit all those involved, especially other producers. If none are mentioned, it happened in exclusively here in Southwestern Ohio and Josh's Nebraska vocal booth.
I feel like I could write a whole cool blog about mixing Josh's vocals, but I'll just let you listen for that.
Intro-The instrumentals for this track were made entirely by Josh Ohaire of Worth Dying For. I simply mixed Josh's vocals, and mastered the finished product.
Exhale
-Exhale was actually one of the last things made for the album. After over a year, we were trying to fill out the last of our "genre goals", and I plunked out this very matter-of-fact, sort of ominous piano-centered beat, with these trashy semi-clean guitar sounds. It was playing with the tension between shifting major and minor sounds, and the keys were made to sound like they came from a distant, burned-out speaker. It had a sort of groovy, dirty, heroic, post-apocalyptic vibe that I almost loved too much to let go. I could see it being used in the trailer for a nearly-noir superhero film. Josh felt the same way, and late in the game, used the instrumentals to write what would become the title track. Out of the goodness of his heart, he surprised me by letting me do a guest vocal (my second for the album) for a part he wrote, and if felt good being able to be a part of this shafty groove.
Counter the Culture
-Easily one of my favorites. This one started out as a beat by Marvin Glaspie. All of the constituent ideas were there, but I felt the need to amp it up to the Nth degree. All of my Pillar influence started to bleed through. I stuck in the rhythm guitar tracks and laid down an acoustic drum track that (I hope) echoes groove of Lester Estelle Jr. I felt it could use a change of pace too, so I ended up inserting a major-keyed bridge with some more festive synth sounds, and I of course couldn't keep the piano out of it. Josh got as pumped about it as I was when he got the preliminaries, and laid down what I think are some of the most pithy, aggressive bars on the album. And his call for the gang vocals on the chorus was completely the right one.
Not a Prisoner
-Not a Prisoner was actually a remake of track Josh had done with Chrys Jones. I wanted to take all the original material and remake it with more of a live sound. For me, the biggest things were the bass, guitar, and sax. Most people who listen to the track will obviously notice the saxophone, which was a lot of fun to play. But I also want to point out the bass and guitar parts, which I am particularly fond of. For the bass, I want to get staccato, funky, and rhythmic. I wanted to take a page out of the Toddie Funk (Josh's cousin, btw) book and play lines with a little bit of slap in them, like in Toby Mac's "Getaway Car". I'm also pretty happy about the guitar chords and jazzy lead sound I got to fringe the tune with.
Josh and I talked about how we could enhance the original vocal arrangements. What ended up coming out of a few conversations was Josh recording all these extra call and response tracks for the chorus, some REALLY far away from the mic. And I told him I'd love to hear him singing more in the chorus, as opposed to the more rap-oriented original version. And that's exactly what he did, in enough layers for me to have all kinds of fun with. I think it rounded out the
cozy, club-oriented funk groove perfectly. Couch it in close reverbs, and and some EVP organ keys (which, you'll notice I abused through pretty much the WHOLE album), and you've got yourself a single.
Lead Us There
-This one was meant to sound sort of poppy, in a Coldplay kind of way, and I basically started with using a guitar effect I had never really found another use for. That "water sound" ended up being a really good schtick for this, and the more more I played that chord progression, the more I fell for it. Enter the sounds of the EVP keys, and the organic feel practically built itself.
I love Josh's lyrical theme in the first verse of this one, because I knew exactly what he was talking about. It's 3 in the morning, you KNOW you should be sleeping, but it's quiet and peaceful enough that all the music that has been trying to introduce itself to your for several busy days can finally come up to the surface, and 8 metric tons of inspiration just explodes right in your face. Josh brought in guest vocalist Sarah McGaffin on this one,
giving a nice, layered change up to the chorus. I endeavored to use effects for her that sweetened the blend of her parts.
Back to You
-A personal favorite. This one started out as a recorded phone memo of Anthony Flakus and Nathan Castro jamming. My first reaction was to try to rock it out Counter the Culture style, but Josh wanted a more orchestral approach. And I got WAY carried away with it. By the time I was done I had written one of my personal all-time favorite instrumental tracks, utlilizing pulsing strings, bold piano, rock drum kit, and dubstep bass. Again, this was another one where I felt like Josh's verses were highly identifiable. I've spent nearly a decade as a kid in a basement, just constantly working on the craft of songwriting, mixing, mastering, and production. After a while, it's easy to start wondering when there will be a "reward", and Josh's verse lyrics were a great cathartic release.
Not Black Enough
-This is primarily a beat by DJ Wit, chopped up and added to by yours truly. What you hear in the final product is pretty much what Wit sent us, I simply used his stems to create an intro, varied them up a bit to add length, mixed them to taste, and added some instrumental additions of my own (aaaaannd, que piano, synth, (check out that second verse ;) and a little bass in the chorus). The real mixing thing I love about this one is actually the chorus vocals. Josh's layers fed into this fat chorusing effect gave it a nice, modulated, urban sound that just feels right. And I've got to admit that the verses here are some of the most clever on the album.
Sledgehammer
-Another remake of a prior track Josh had done with Chrys Jones. My idea with the production and sounds here was sort of Led Zepplin (as if I've actually listened to much of them at all) meets sort of old-school urban. Thus, the sort of British rock n' roll guitar, and the Leslie organ. I also wanted to add more to this one riff and key-signature wise. The verses were so long that, that I felt it would be a crime to loop the same riff over and over. I wanted to bring that jam-band feel to the fore (live guitars, bass, drums, organ), but with the crushing-riff approach of a hard-rock player that accidentally got plugged into a classic sounding cab as opposed to a Mesa Triple Rec. Overall, it needed to stay hard, groovy, but FUN. I think that's what we got.
Can't Hold Us Down
-Josh spent a notable amount of time massaging this one out of me. There was this idea that he wanted a thumping, rootsy hip-hop sound with a sort of tongue-in-cheeck groove. A big thing about this one BASS LINE and HORNS. Thing was, it was hard for us to come to something that we didn't think was cheesy musically. I think it may have taken us a week or so just to get past prelims on this one. Still, I LOVE the end product and it's ended up being another favorite. I tried to tap into my jazz and funk band experience, and pull out a lot of improv-style parts between the keys and piano. Josh's melody in the chorus really hit the nail on the head too, taking the party vibe to the next level. This one will make you smile.
I Won't Go
-This started out as a beat by Marv Glaspie. A lot of the good ideas were there, I just wanted to upgrade the sounds some in accordance with Josh's mandate for a more "live" sounding record. I took some of Marv's original ideas and just replicated them with different instruments. I.E. I took his lead synth line and used a guitar on it instead, used some of my own string library, stuck some supplementary piano, bass, and drums in there, with some fun distroted loops too. I guess you could say that I took Marv's original musical basis and made it my own. This song features the vocal talents of Jarron Taylor
Holes
-This started as a beat by JR. I left a lot of his original material intact, I just wanted to add to its serious vibe with that sequenced distorted key sound, and I added the solo strings in the chorus to really contribute to the operatic drama of the sound. What was cool on this one was that Josh was looking for a very particular type of female guest vocal for the bridge, and was having a hard time finding it. However, Victoria James is a friend of mine from UD, and was currently the singer for the Dayton Jazz Ensemble, for which I was playing alto sax one. I took her in for a session, and she was just what Josh was looking for.
Home Sweet Home
-This is definitely one of my favorites. Josh wanted something sort of dark and heavy, but not so much so that it left you feeling creeped out. It took a of of balancing and bouncing back and forth to get it right, but this one gave way to some of the most imaginative, and layered music I've written. I felt sort of like Atticus Ross and Trent Reznor making a movie score. Josh wanted to make sure there was some piano in there, and I had a mind to layer a lot of industrial percussion and tweaked out guitars into the landscape. Distortion this, theatrical reverb that, modulate, oscillate, and repeat. It needed to SOUND post-apocalyptic. How does one do that? With layers of drama, including an ominous bass. I still love the way it starts, with this trashy, junkyard of a post-processed composite drum beat overtop of of a hopeful, heartfelt string quartet, that turns around and immediately dumps you into the cold "land of the heartless". The verses let me use uncomfortable intervals. Diminished chords, minor seconds, all the stuff you usually avoid when you're making something "accessible". And I have to talk about those guitar sounds. I was honestly thinking Korn. Overcranked modulation on semiclean guitars created a great atmosphere for the piano and metallic percussion to sit on.
But then, Josh and I had a lot of talk about making sure we didn't go TOO far. We didn't want it to be disturbing or frightening, just theatrical and engulfing. We both knew that it had to go someplace good.
Josh wanted to write verses about a stark situation, but to have the song ultimately be about redemption.
I had to find a way to glide into something that was soaring, something that went above the greenish clouds of the verses and into a hopeful sound. I found a progression that led nicely into the string-filled chorus (very happy with the string parts here, by the way), and a guitar patch that I could open up slowly into a sparkle.
After diving into the second verse, there still needed to be more direction. What could I do with a bridge on something like this? We had hit both bleak and hopeful, but there was still the possibility of a defiant groove. It felt steampunk. It felt good. An overdistorted bass line, like a bunch of goggle-wearing rebels had started a jam band to lead the resistance. And Josh's lyrics, "yeah they tell me I'm an alien", just begged for for the extra-terrestrial treatment. It turned into just the change of pace that the song needed.
To end out, I really felt like we needed catharsis. We needed the dark story to have a definite, sweet ending. I'd say happy ending, but it's more introspective than that. Josh and I worked a lot on the writing of this song together, and so he allowed me to guest vocal on it.
This pulsing string quartet over the remnants of the song's clanky drums seemed to pull things together from a grand opera and back to a personal moment. I even did some humming backgrounds ala Imogen Heap. The solo strings are acutally also present in the chorus, but they're a little lost in the full orchestra, so I really wanted to solo them out. It lets the song fly away on a deep, but good note, hopefully making the taxing emotional experience of the whole thing very worth it.
Torches
-Reggae, he said. I've never done reggae before. I mean, I've listened to P.O.D. and TobyMac, that's about as close as I've gotten. And I was making this for Josh who, for all intents and purposes, had much more experience with the genre than I did. I had to take a mental inventory. "Ok, reggae...ummm...clean guitars on the offbeat, poppy snare drums, bouncing, laid back, funk-esque bass, minus all the frenetic energy, earnest lead lines...... Well.....ok, here we go."
Turned out I actually did pretty good. Josh was like "yeah man!" and I was like, "Sweet!". After that, mixing the vocals was just fun. I knew that from a lot of the reggae I had heard in passing, there was this big-tent, echo vocal effect that got used from time to time, so decided to employ that a lot. Josh really made a nice worship song out of this one,
and tastefully chose to do a lot of singing that helped keep it melodic and relaxed.
Hands High
-Marvin Glaspie had already set up a cool texture with cheering crowd sounds, piano right out of the stadium gospel handbook, a solid bass part, and some great sound effects and basic guitar ideas. Most of what I did for this one was re-record the live heavy guitars, and put the Estelle-style acoustic drum kit in. Our combined producer powers turned out a kickin' "turn it loose" track, on which Josh really wanted to get some things off his chest. The addition of Jarron Taylor's intense vocals helped keep the stadium vibe strong, again with that stadium gospel sound.
Anchor
-This one started as an acoustic guitar idea by Anthony Flakus that I took and ran with. What I really love about this one is the big, flowery sound of it. I wanted to start small and personal, then flourish in full acoustic and synthetic glory, but with an overall tone of simplicity. What I mean by that is, the elements of things like a simple piano line, the prettiness of the guitars, it needed to feel like fresh air. So far, as a hip hop album, we'd touched on a lot of types of energy, and Josh was telling me how he wanted something different for this. Originally, this one went by the temporary moniker of "Goodbye to Yesterday", and throughout the recording process it was cool to use a palette that that sort of conveyed that freedom. Josh gave me a song structure, and frankly, when he sent me back the vocals the structure wasn't quite what I was expecting, but as we shifted things about, we finally arrived at what was needed.
Rise
-For me, was one of the most emotional pieces of music to write. Josh was very clear that he wanted something that he could put his story over. He wanted it to start very personal, then build and build and build until it was huge. I'm a guy that has a penchant for big string arrangements and lots of theatricality. At the same time, I felt I was running dry on musical ideas. I had either worked with or created so much material for Exhale at this point (although, I don't think this was actually the last one in the process), I remember just sitting there and trying to figure out chord progressions on the piano I hadn't used already. In fact, even when I started with this idea, I wasn't even entirely thrilled with it, but nonetheless, I went ahead. I'm glad I did though. Despite the lofty aspirations as a composer, somehow the simplicity of this is what ultimately made it work. Once I had added the drums, the solo cello, it just made sense. And it was bittersweet. It felt like the passing time. It felt like it could be your life story before I even knew what Josh was going to do vocally. The bridge, where kind of comes down for 8 bars, "I used to think I'd never make it, haters not afraid to make intentions clear, but what was started none can stand against, I'm moving mountains every time my faith is flexed. Can't wait to see what's next." When that last line gives way into the final chorus, it gets me every time. And I like that this ends the album. I really tried to play that final piano part with a satisfying sense of finality. Not too hasty, not in time, not in a hurry to end things. It needed to taper off on its own. And it feels good.
Check out J. Crum at
www.OfficialJCrum.com
Get "Exhale" on ITunes
https://itunes.apple.com/us/album/exhale/id634929070
Listen on Spotify
J. Crum – Exhale